Enterprise Insurance Compliance Solution
Comparing insurance coverage limits against custom rules to confirm ongoing compliance.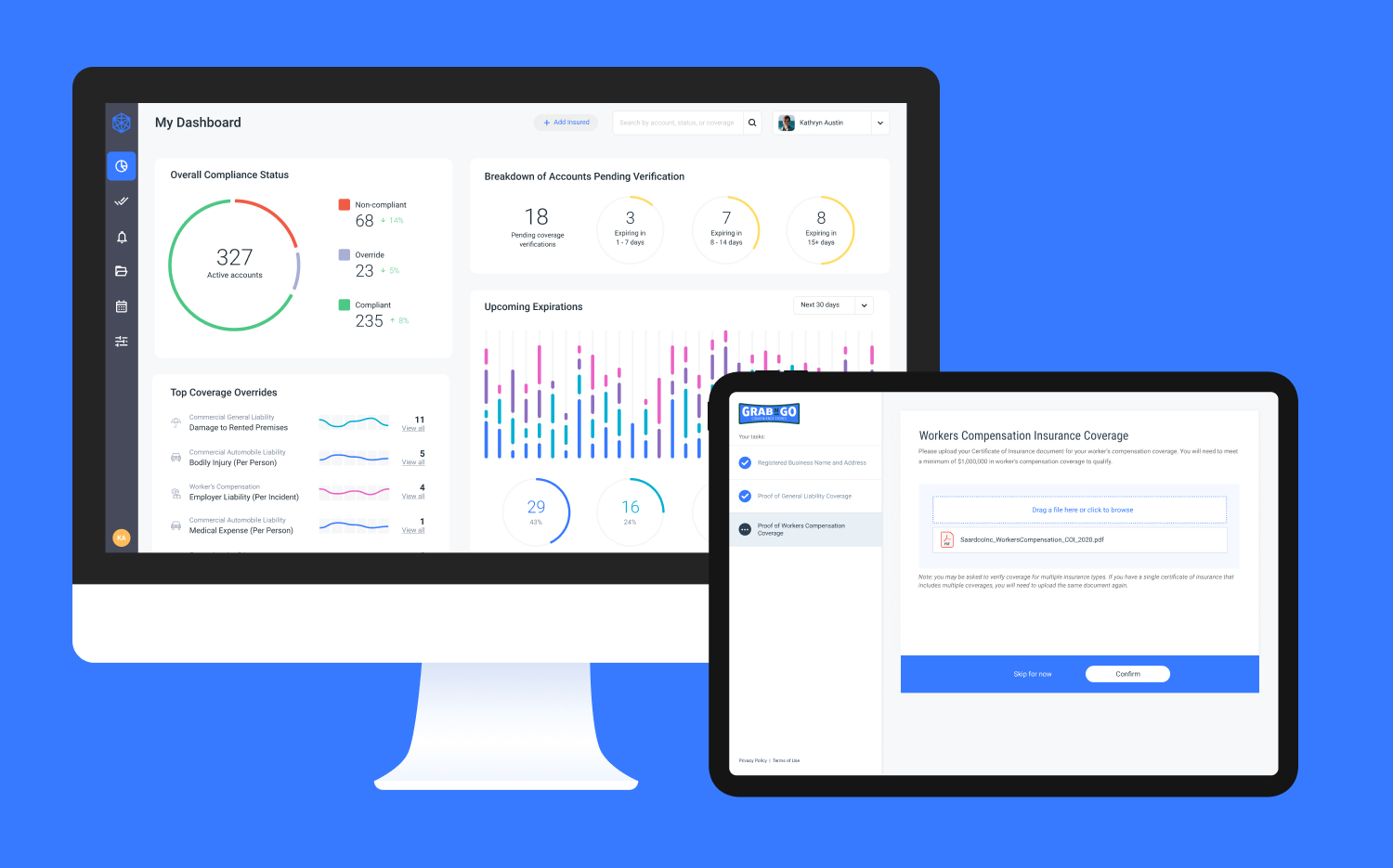 The problem
Risk management is complicated! Even small to medium sized companies deal with dozens, if not hundreds of different businesses frequently – franchisees, vendors, technicians, consultants, etc. Every time somebody representing a business enters the premises of another business, there is risk of liability involved.
That risk can be mitigated with adequate insurance coverage. But verifying that the businesses you interact with have adequate insurance, and more importantly that they keep adequate insurance, can be a full time job in itself, just to maintain baseline operations.
The solution
The solution is a SaaS platform that removes the complexities of verifying that businesses meet and maintain insurance coverage requirements.
By automating the collection and management of required documentation, and comparing insurance coverages to custom rules, the risk management app changes what was once an extremely time consuming chore for whole teams of people into something that happens in the background with minimal effort, letting risk management professionals focus on what needs their attention the most.
Key objectives
Mitigate risk by ensuring that non-compliance is immediately discoverable
Eliminate the process of collecting information and manually examining certificates of insurance
Surface details in an immediately actionable way
Visualize the pipeline of onboarded businesses
Analyze organizational health from the highest level to the most tactical
Automate decision making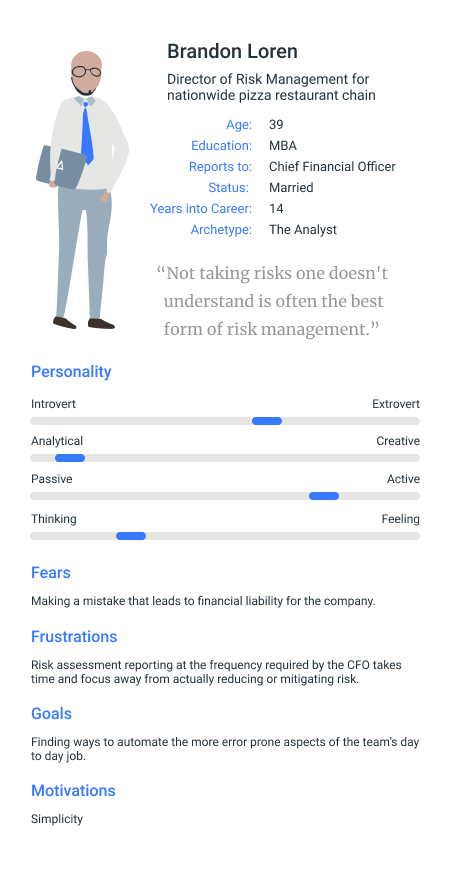 Understanding the persona
Meet Brandon. Brandon is the director of risk management for a nation-wide pizza restaurant chain.
It may sound like a cushy job, but let's look more closely at what it entails.
Brandon manages a whole team of risk management professionals who, as part of their job, analyze the insurance coverages of the businesses the pizza chain interacts with. Each type of business has a unique set of insurance requirements in order to be in compliance with company rules. For example, a company that delivers frozen foods may require higher auto insurance limits, while a franchisee may need larger worker's compensation limits.
Since each of the hundreds of pizza restaurants throughout the country work with different businesses, all 0f which have insurance with different providers, tracking down all of these coverage details is pretty burdensome. To make it worse, each of those businesses can choose at any time to change their insurance coverages. Just because they had compliant coverages a month ago doesn't mean they have compliant coverages now. That means they have to be frequently checked.
If a single one of those coverages expires and falls through the cracks, and an incident occurs in which somebody is hurt, it could cost the pizza restaurant chain millions of dollars. The burden of making sure that doesn't happen falls squarely on Brandon's shoulders.
Believe it or not, that's just one of many of Brandon's responsibilities.
Connecting persona needs to problems to solve.
I started by understanding the primary needs across each phase of the risk manager's journey with insurance compliance, identifying gaps in existing products and workflows, and then mapped solutions to those needs. As a bonus, some solutions spanned across multiple needs.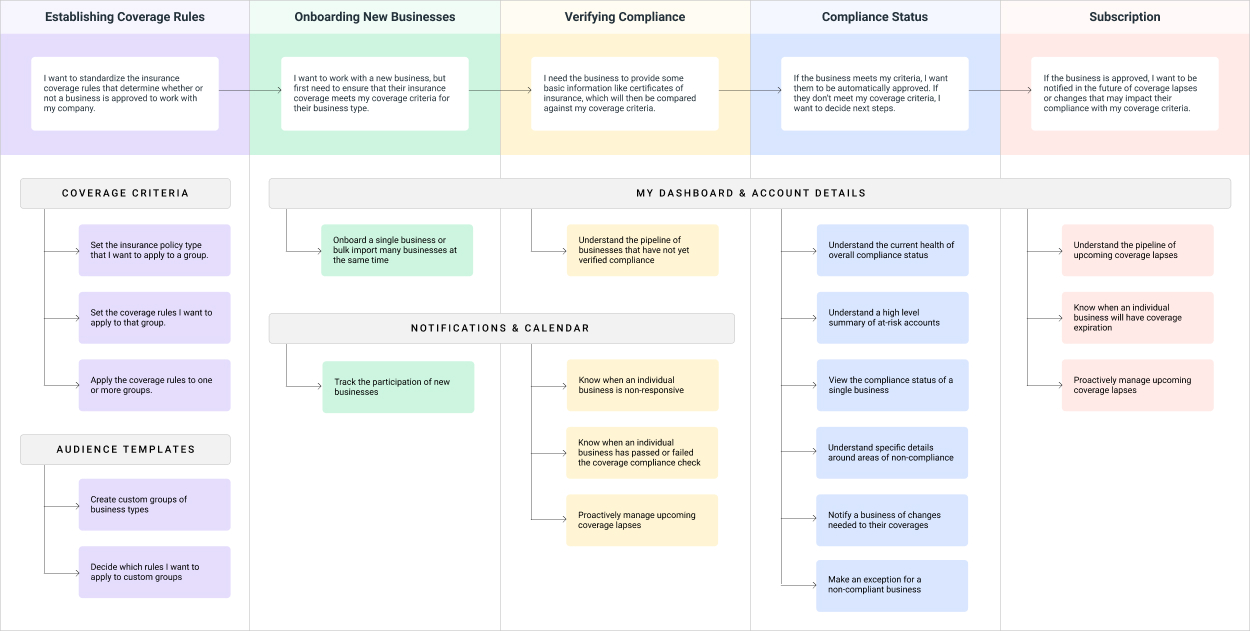 Mapping persona needs to task flows.
Once I had a clear picture of the problems to solve, I produced a series of (very) rough wireframes and task flows that mapped out the path a risk manager might take through the product to address those needs.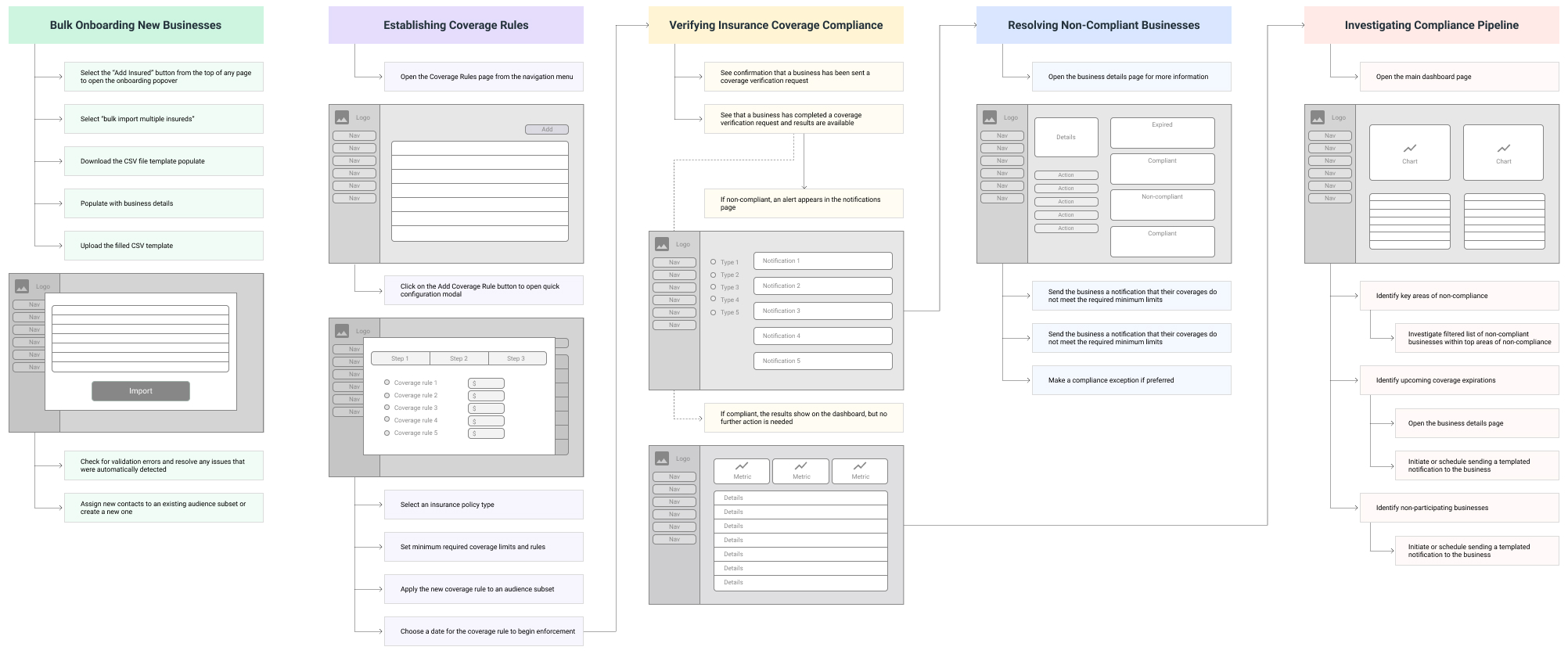 End-to-end insurance compliance monitoring
The comprehensive workflow tool takes the headache out of ensuring that businesses meet or exceed required insurance coverages. Risk managers can rest easy, knowing that the businesses their company interacts with are compliant with their insurance rules. And if that compliance status ever changes, they'll know immediately.
Onboarding
Businesses are added to the tool, assigned to an audience subset with custom rules, and sent instructions on how to verify insurance coverage.
Auto-analysis
Businesses receive a unique link to an encrypted website where they can upload the relevant documentation to show proof of insurance coverages.
Subscription
Coverages are continuously compared against custom rules and updated in real time. Results are summarized in a way that is simple and actionable.
Risk Management Dashboard
From the dashboard, executive level risk managers like Brandon can understand the overall compliance summary of the businesses their company works with. Pipeline of upcoming expirations can be easily understood, lack of participation can be easily investigated.
The dashboard also gives a path of analysis into where exceptions to coverage rules are commonly being applied.
Compliance Summary
While the dashboard focuses on the overall compliance status, the compliance summary page allows for a more hands-on approach. Risk managers can investigate highly specific areas of non-compliance, schedule reminders for yet-to-participate businesses, and know who to follow up with and when.
Key metrics at the top of the page act as quick filters to key subsets of businesses to ensure that risk managers can focus on the most actionable details.
Account Details
While the strength of the tool is its ability to automate decision making, it's important to be able to understand what those decisions are based on. The account details view provides a summary of the insurance coverage details of any business at a glance in real time. In other words, risk managers can understand coverage compliance right now as opposed to when the business initially verified coverage 8 months ago.
When businesses are non-compliant, risk managers can also choose to make a manual exception to the rules, reducing the coverage limits required for a particular business.
Configuring decision rules
Risk managers can create custom rules that apply to specific types of businesses.
Since not all businesses are required to comply to the same coverage limits, decision rules can be created to automate comparing a business to its unique coverage dependencies.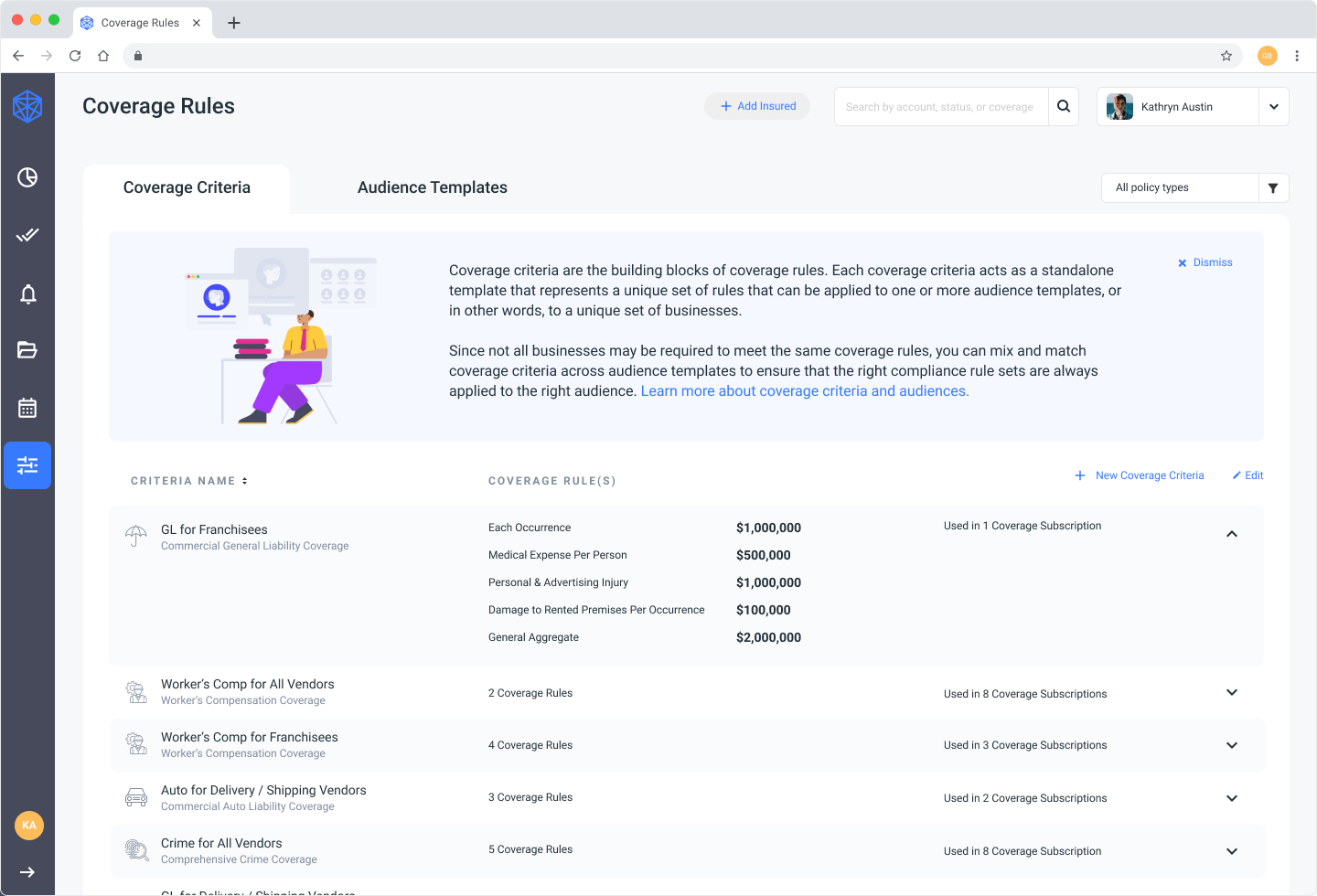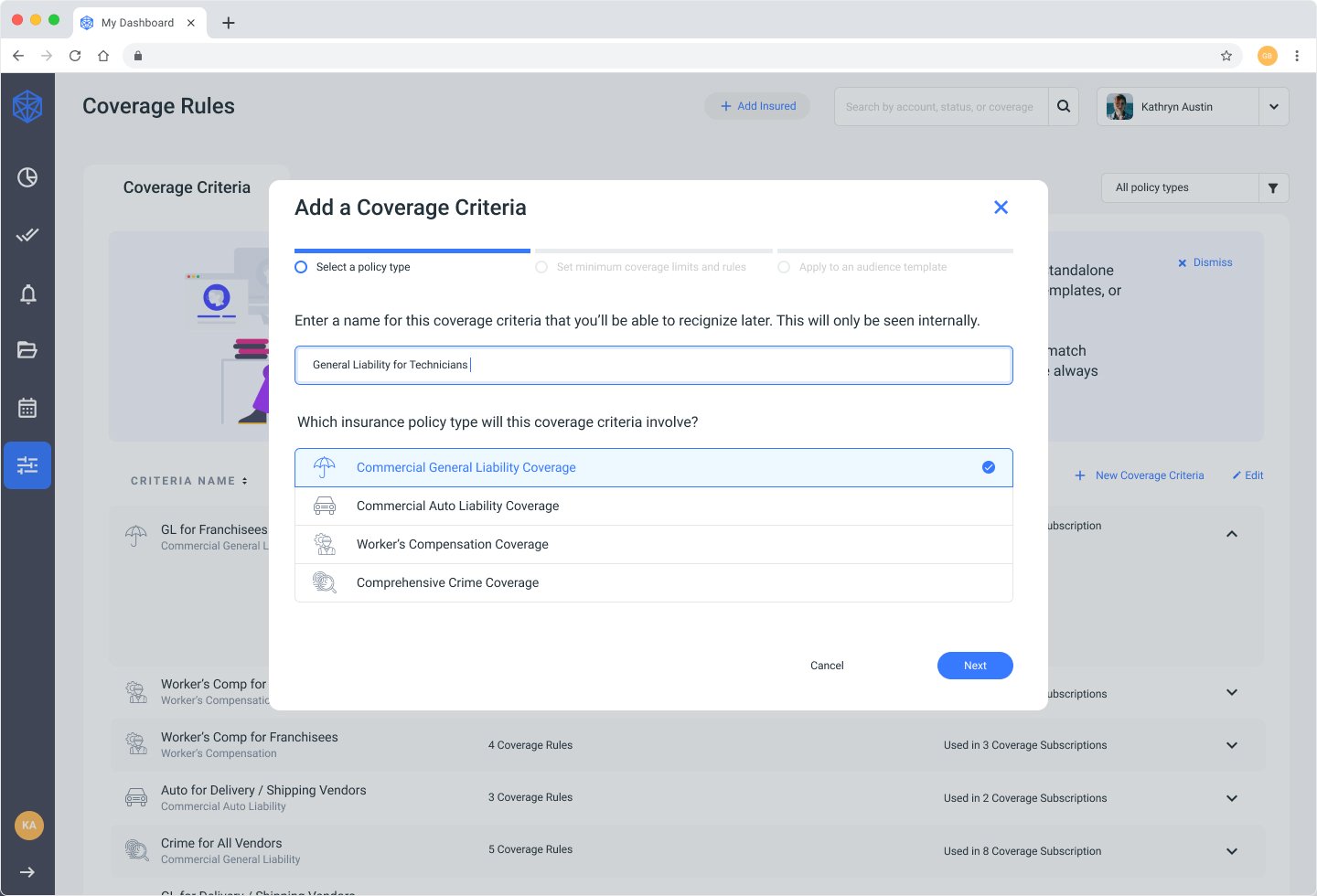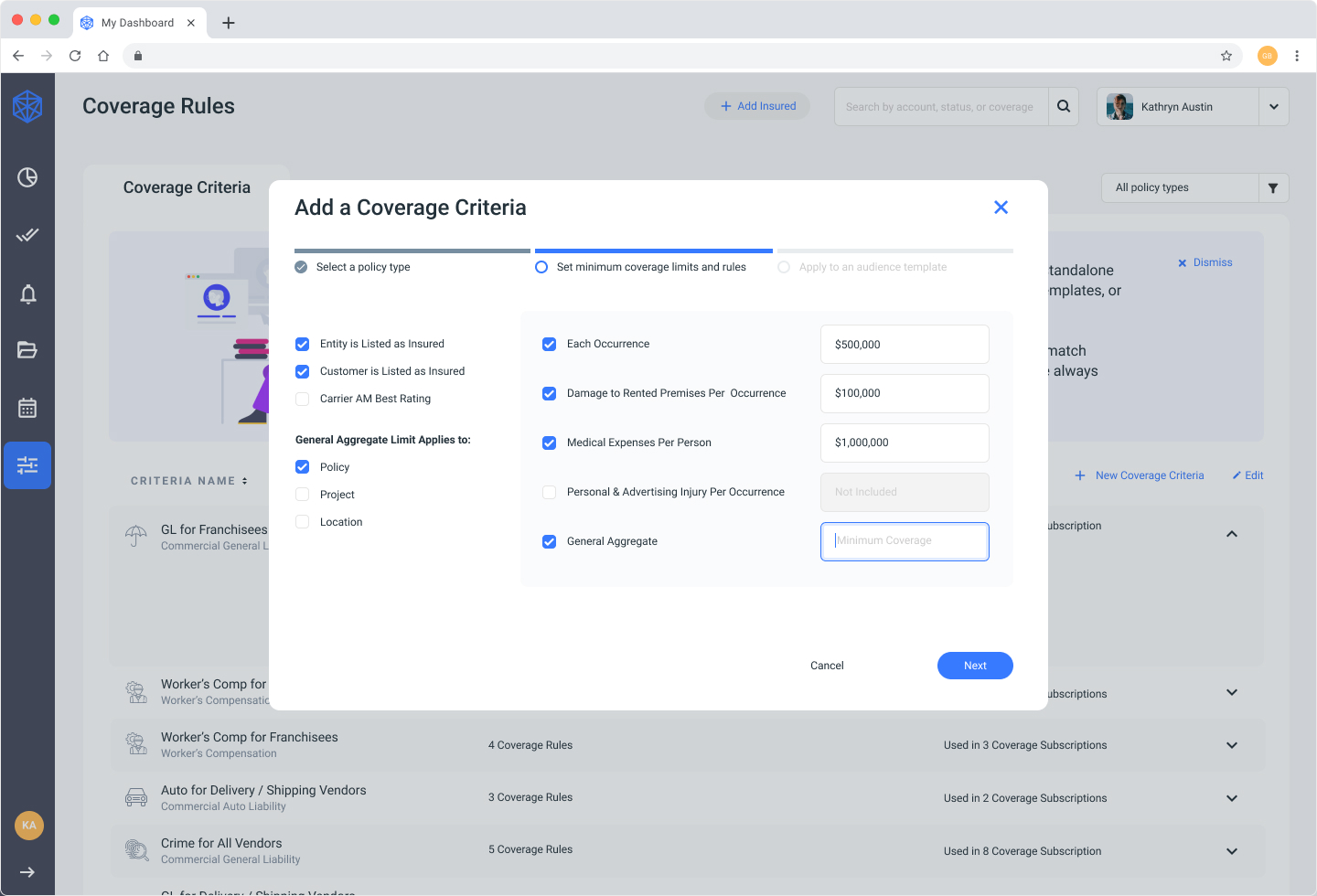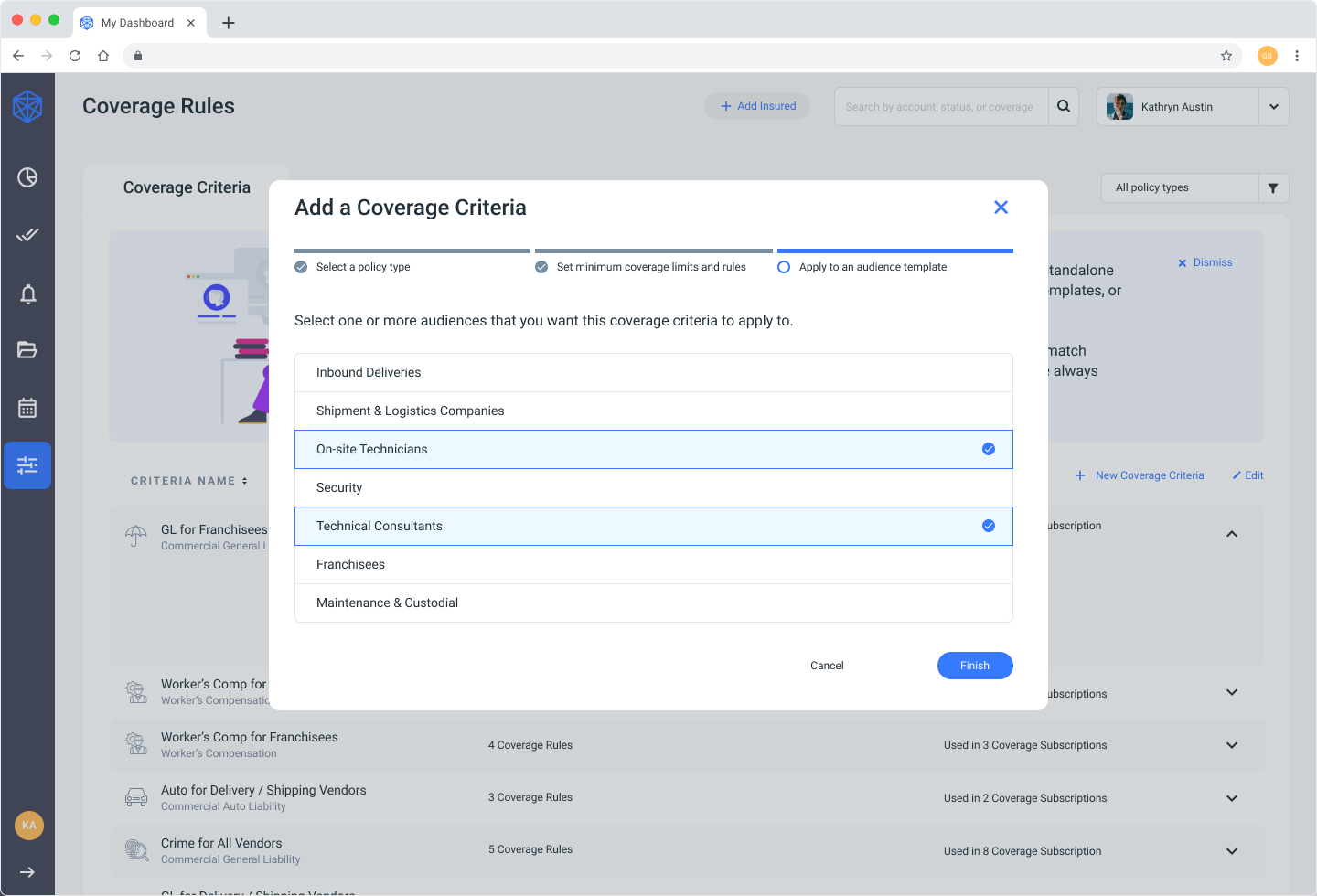 Viewing preferences
To better accommodate extended use, the product includes viewing preferences for light mode and dark mode.
Drag the slider to switch the view between light mode and dark mode.