Enterprise Health Status Solution
COVID-19 monitoring for essential workers returning to work during an unprecedented global health crisis.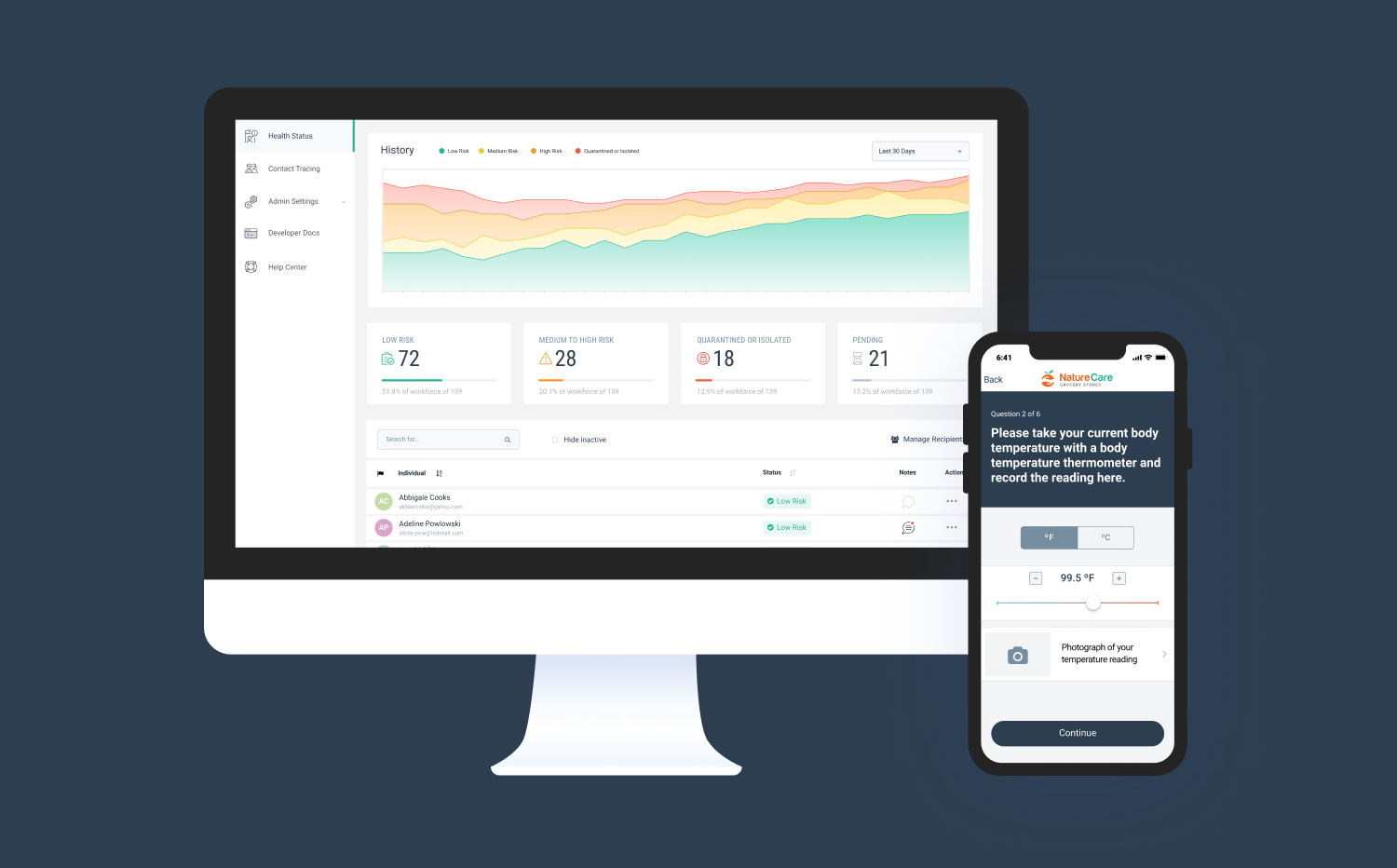 The problem
With the onset of the COVID-19 pandemic and the need for essential workers to remain in the workforce, businesses needed a COVID-19 monitoring solution as a way toprevent workplace exposure. As the pandemic continued, more and more businesses opted to return to work, but needed a way to do so that was strategic, thoughtful, and most of all safe.
As businesses re-opened and essential workers continued to work, HR leaders needed to reduce the liability associated with the risk of employees being exposed to COVID-19 in the workplace. Individuals who had been exposed to somebody with COVID-19, or who themselves had symptoms of COVID-19, needed to be restricted from accessing the workplace until they had followed the CDC recommended quarantine or isolation protocols.
The solution
The solution has two key products that operate together to help bring essential workers to work safely, and to assist businesses in their return to work programs.
An iOS and Android app is used by the employees to answer surveys about their health and any instances where they may have been at risk of exposure to COVID-19. After completing the survey, employees receive recommendations on whether or not to attend the workplace, and the guidance on procedures they should be following.
The business uses a web-based dashboard solution to manage risk, schedule and customize surveys, and analyze organizational risk based on the results. In the case of high risk individuals, or incidents of exposure in the workplace, the product even guides businesses to coordinate activities around contact tracing.
Key objectives
Thoughtful, accurate responses from employees to ensure accurate results
Encourage participation and drive toward survey completion
Minimize friction to drive user adoption and participation
Provide up-to-date guidance to employees aligned with official sources
Encourage compliance with
Iterate rapidly to help businesses stay compliant with changing guidelines
Reduce liability for businesses
Mitigate risk for employees and their families by preventing workplace exposure
Project details
The initial concept for the product was based around the concept of safe person-to-person interactions. For example, a home service provider like a cable technician could verify a risk level and use the results as a "trust badge" credential that could be scanned and validated by a homeowner. 
As we tested the concept, we realized that a substantially more valuable problem to solve was businesses needing a tool to strategically bring employees back to work in a way that helps employees to not only feel safe, but to actually BE safe.
A huge constraint the team faced is that we had to rapidly change directions based on new information as it became available. As the science and understanding of COVID-19 evolved, our thinking had to evolve too. 
Process and research
In addition to leading the UX design for the product, I also doubled as a product manager for the business-side experience, and was responsible for managing new features from initial research and feature definition and stakeholder alignment, all the way through design, implementation, testing and release.
Throughout the project, I conducted several rounds of user research, collecting qualitative data points that allowed  the team to understand "return to work" processes and procedures as businesses were still developing them.
I created and maintained the research database of customer and user feedback, which was used to prioritize features and requirements in the product roadmap while keeping a finger on the pulse of the market.
How the COVID-19 monitoring solution works
Comprehensive risk monitoring across the workforce provides a clear understanding of organization-wide composition of employees that should or should not be attending the workplace.
Scheduled Survey
Employees receive a COVID-19 survey in the employee app before each scheduled work shift that requires being on-site.
Risk Evaluation
Survey responses are evaluated against a formula to identify any risk of COVID-19 exposure each employee may pose.
Results
The employee is given a definitive recommendation based on CDC guidelines, and the business receives the results.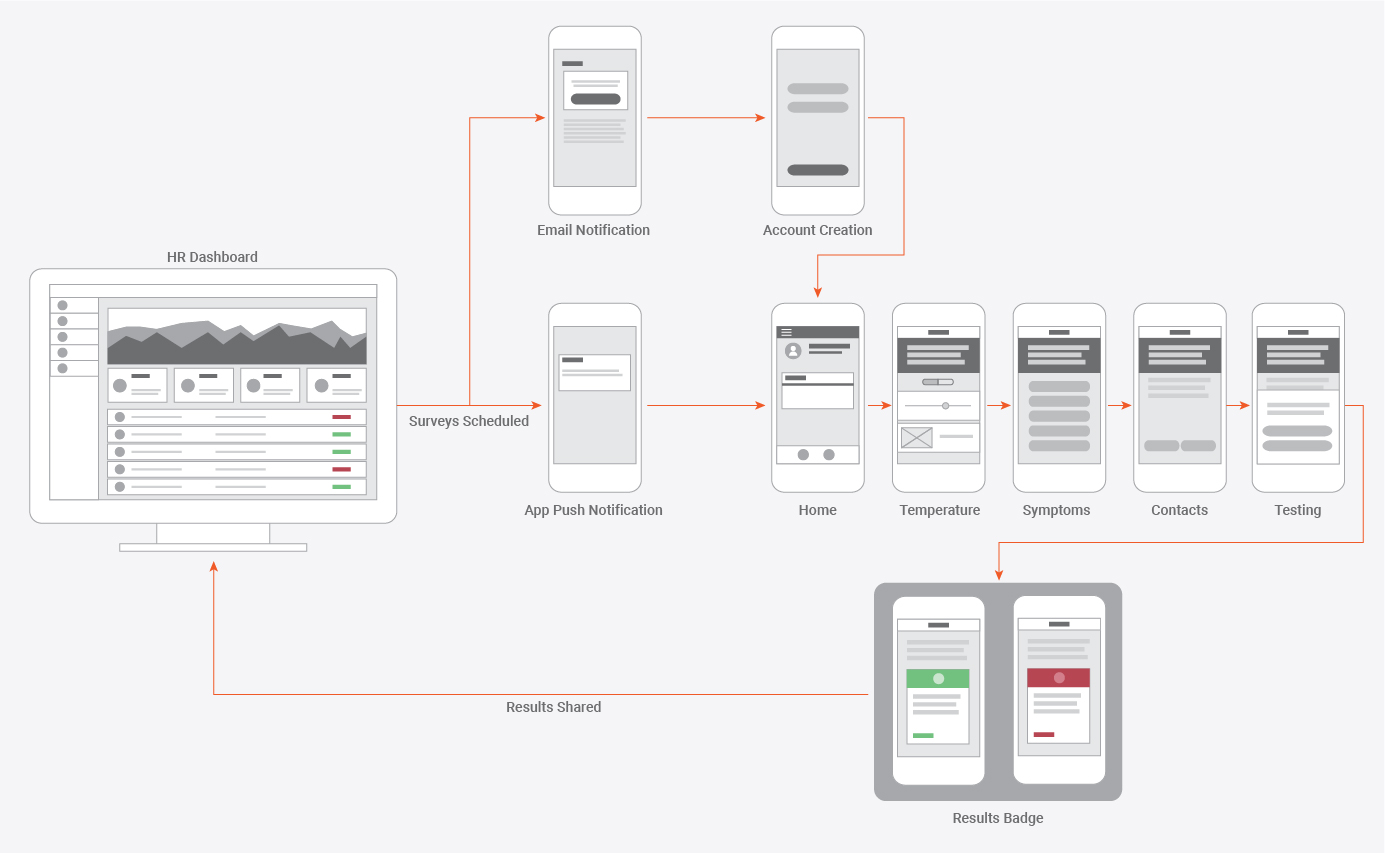 HR admin dashboard
The business dashboard is focused on workflow-oriented actionable insights, with the ability to filter directly to the most critical subset of information.
The dashboard gives an immense amount of data in a single viewport: a real-time snapshot of an organizational composition of risk levels, historic trend data of organizational health over time, and individual risk levels of every participating employee.
Lifecycle management
Employee detail views offer a valuable snapshot into an individual's history within the organization. Businesses can track details related to COVID-19 exposure, and allows for all coordinated activities and communications with an employee to become shared knowledge within an HR department, all while preserving privacy for the employee.
Businesses can enforce authoritative CDC guidelines on quarantine and isolation protocols as related to workplace attendance based on the information provided by employees.
Contact tracing
One of the key scenarios the product needed to guide businesses through is being able to quickly and effectively respond to an incident of risk in a way that dramatically reduces the potential of workplace exposure. 
I worked closely with certified contact tracers to design a workflow where HR admins are notified and guided through the required activities, using the same manual contact tracing processes that a local department of health uses.
Configuration
The surveys that employees receive from their employer are deeply configurable, and can be adjusted according to business needs and risk tolerance. For example, some businesses may choose to collect temperature readings and require as an operational process that proof of the temperature reading be provided. Other businesses may choose not to even collect temperature readings at all, but instead ask questions about inter-state travel.
Everything that employees receive, from the first notifications to the daily surveys, are fully brandable and customizable for a seamless user experience.
The employee experience
Try out the interactive demo here to see the COVID-19 monitoring app that allows employees to complete risk surveys.
A lot of thought was put into how to make the COVID-19 monitoring solution valuable to businesses, but without adoption from end-users (employees), the solution fails. In order to drive adoption, the team had to focus on bringing tremendous value to the users by guiding them through an uncertain and unprecedented health crisis.
Employees receive risk evaluation surveys that categorize them into one of several possible risk levels, based on the answers to each question. Each risk level is associated with a unique set of recommendations based on CDC guidance. There is a lot of ambiguity around diagnosis of symptoms and health scenarios, and automating responses to them, so we went with an approach that is not ambiguous at all.
"You said this, the CDC says you must do that".
For example, somebody who is at the lowest risk of exposing others to COVID-19 will receive the recommendation of attending the workplace, but is given guidance on social distancing, mask wearing, and handwashing protocols.
On the other end of the risk spectrum, somebody who is at the highest risk for exposing others to COVID-19 (somebody who has a confirmed positive case of COVID-19) is given the recommendation for self-isolating, and provided with the CDC's official guidelines on criteria that must be met before isolation can end.
The survey
A lot of research and testing went into making the survey as non-intrusive as possible.
Early users were surveyed to understand the level of perceived inconvenience caused by completing the survey before each work shift. The survey itself was crafted in collaboration with a medical advisory board to allow for the most accurate determination of risk using the least amount of sensitive personal data possible.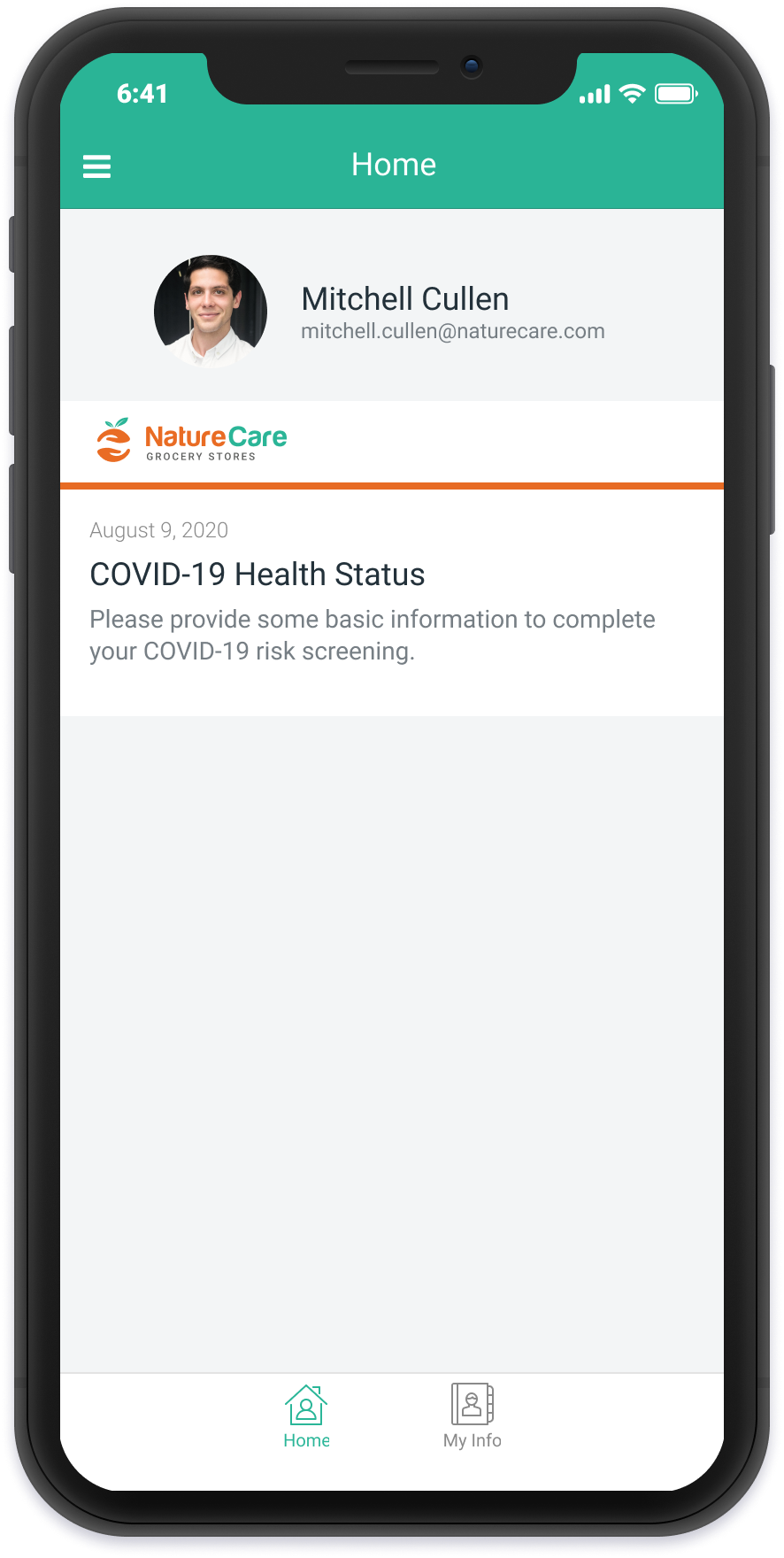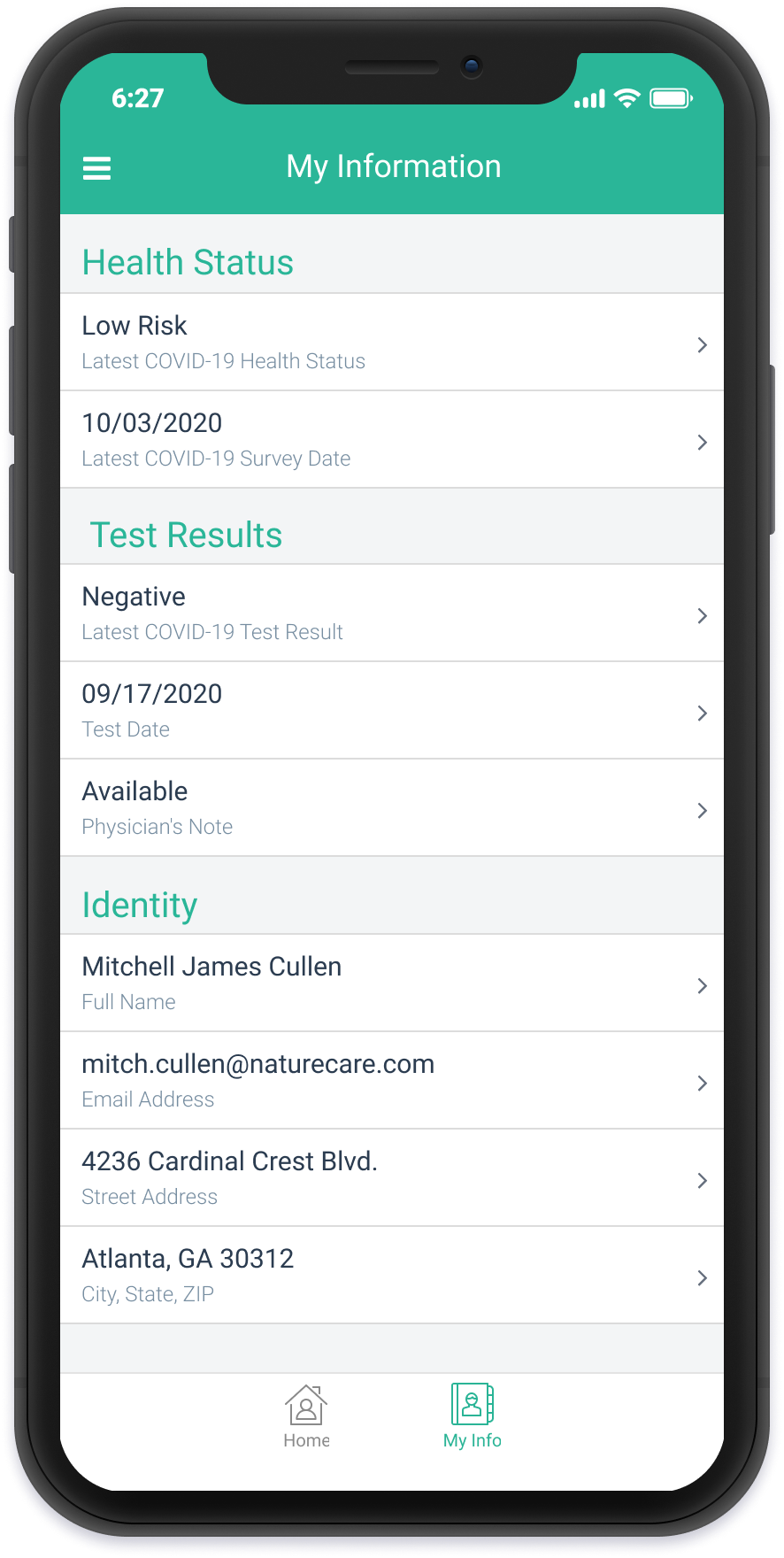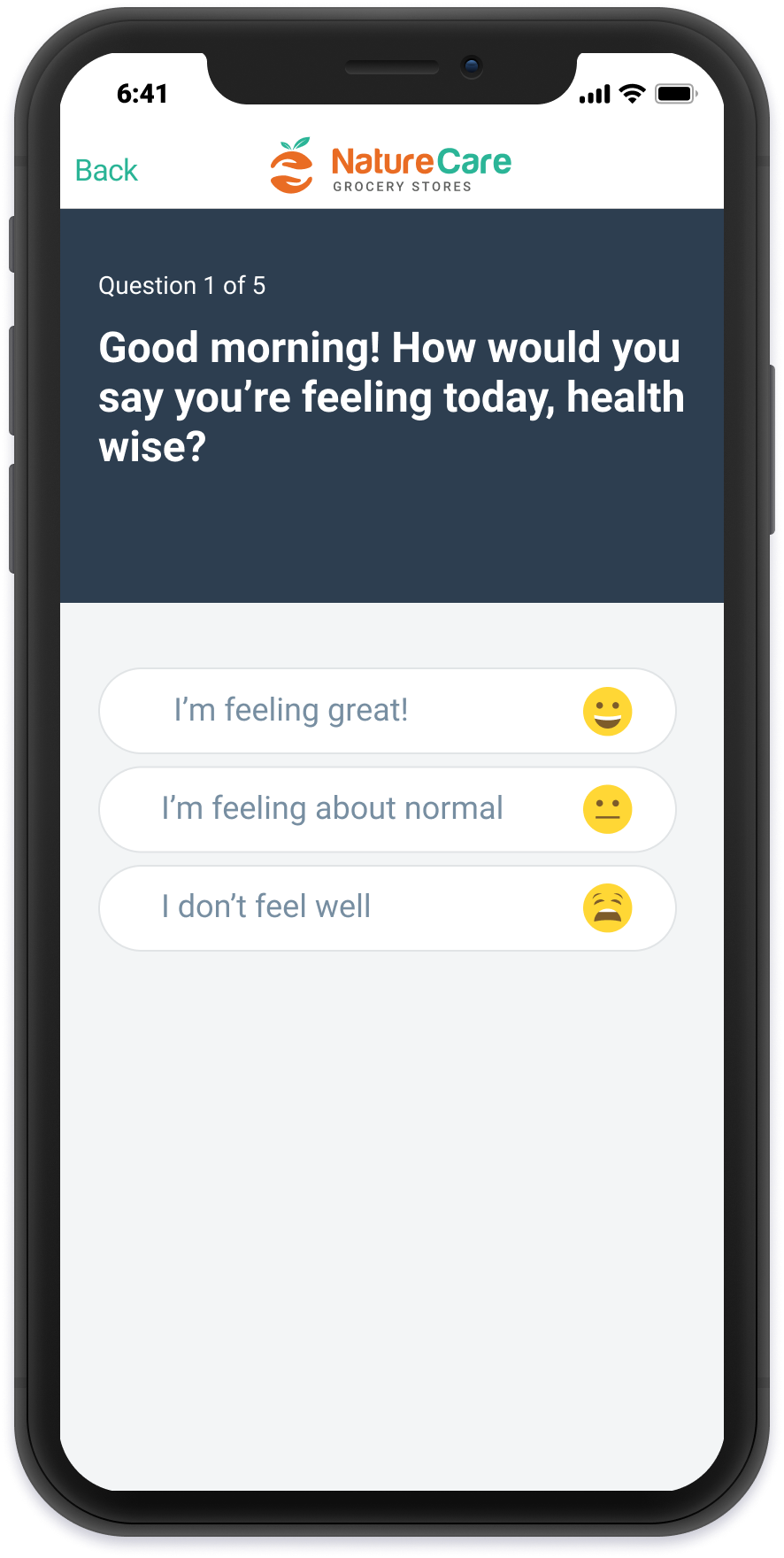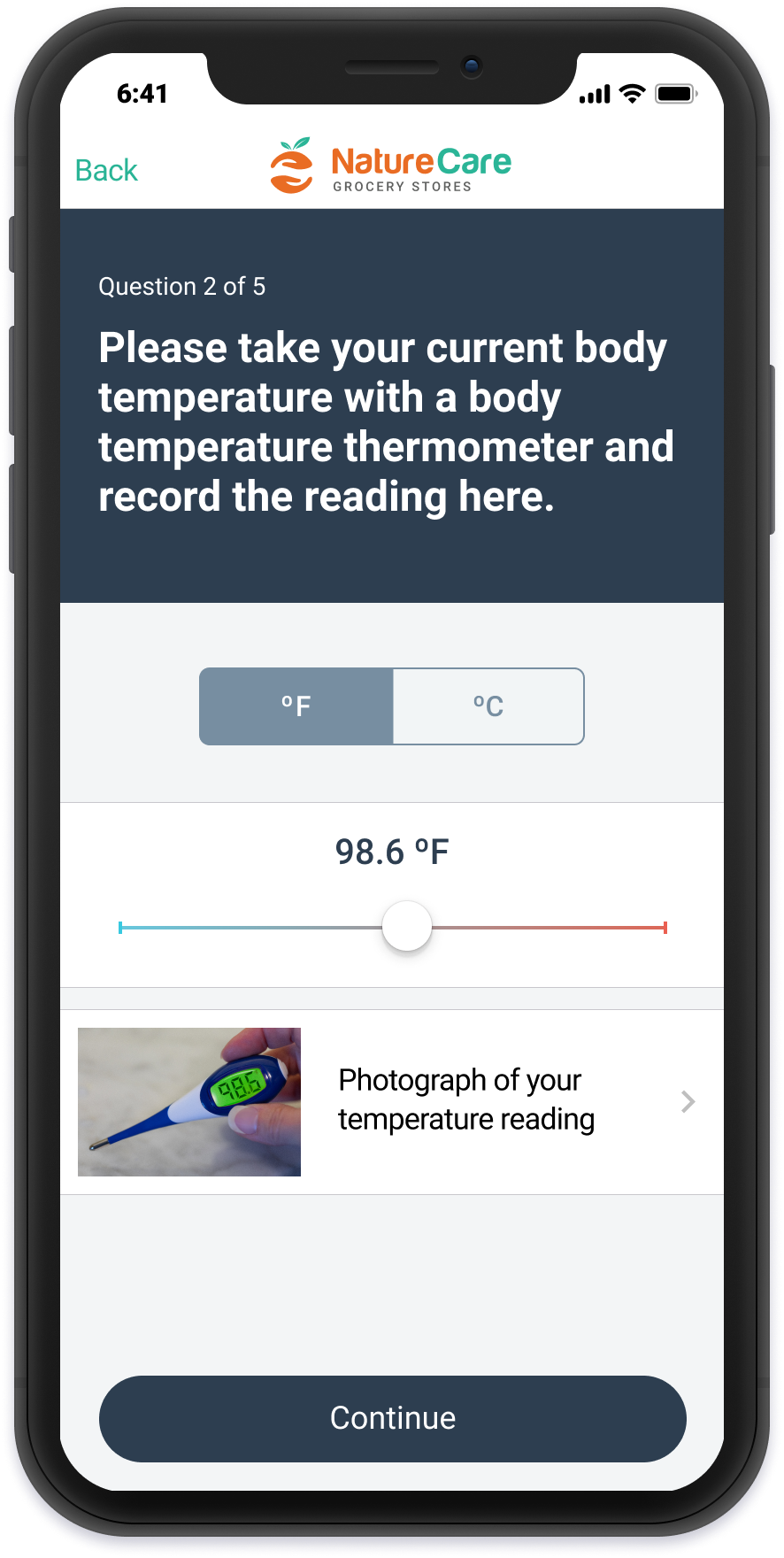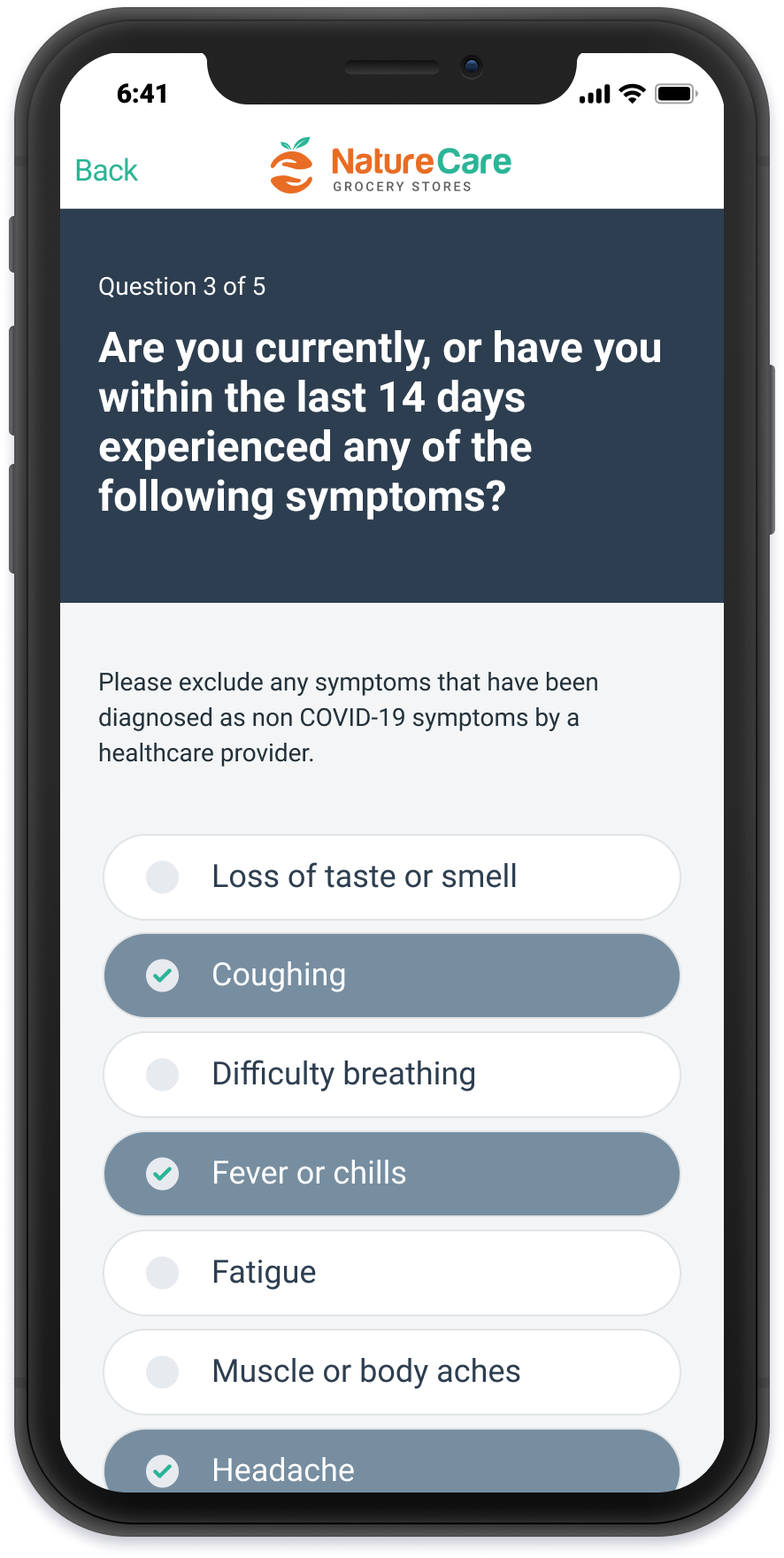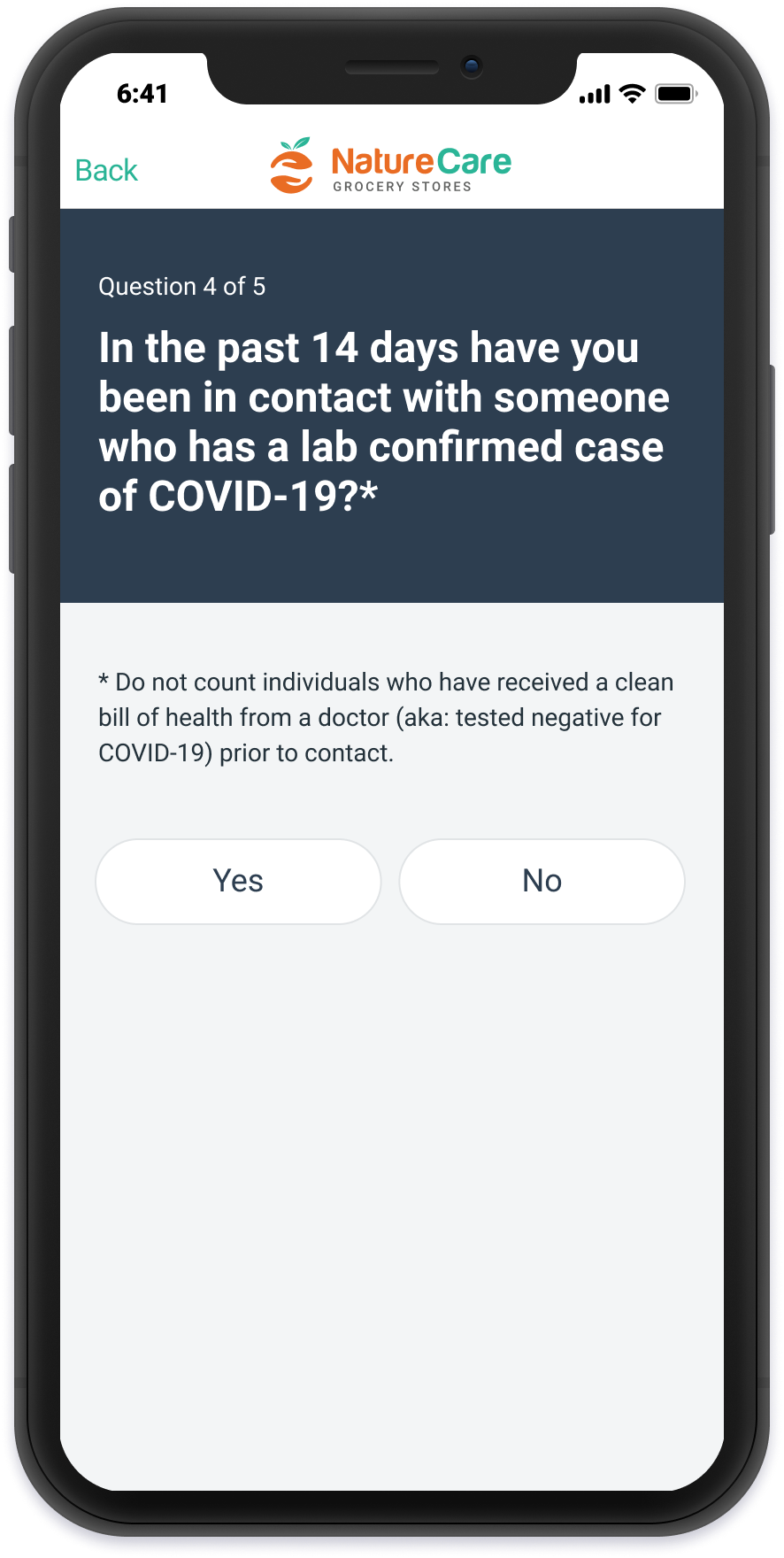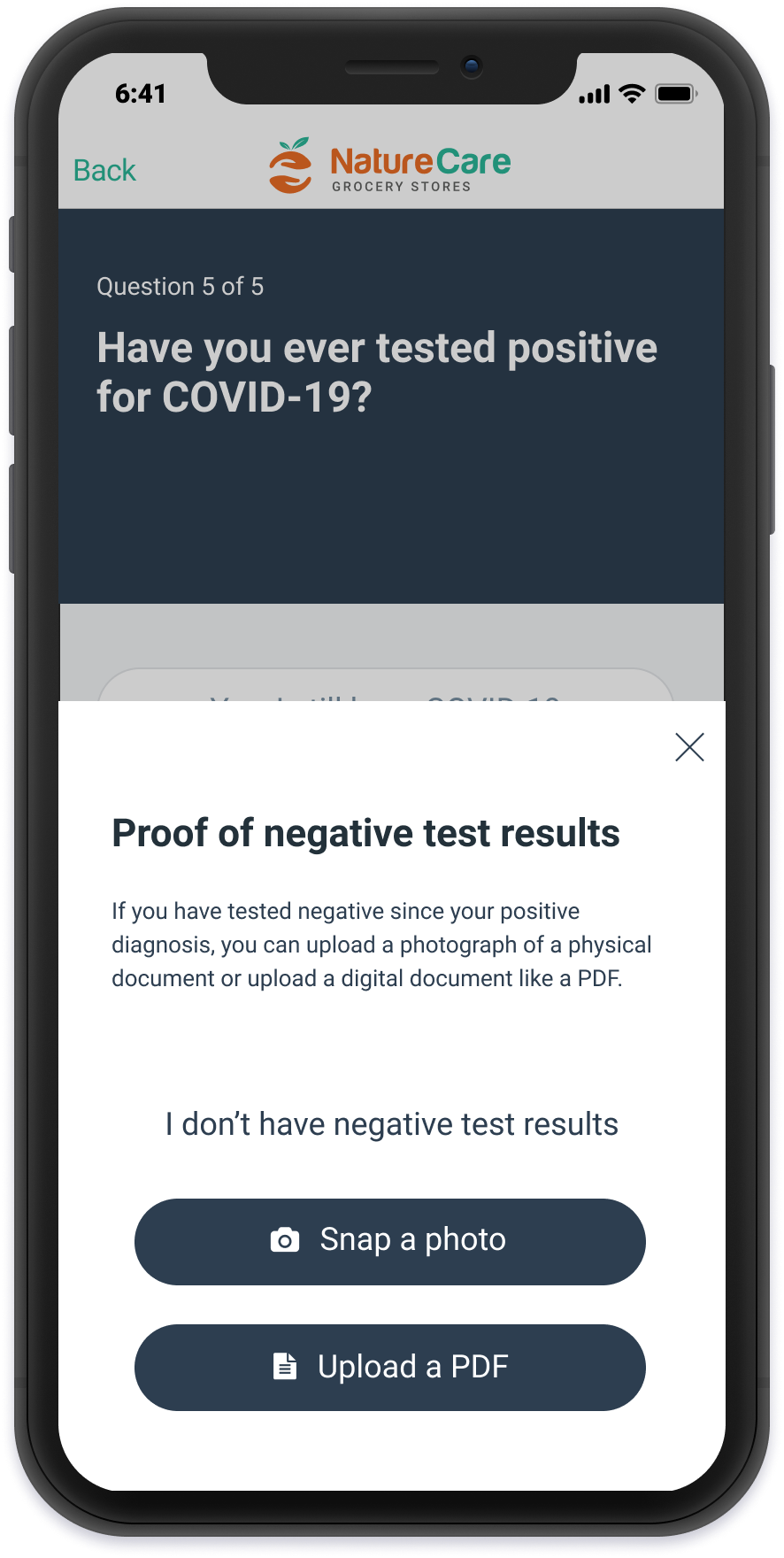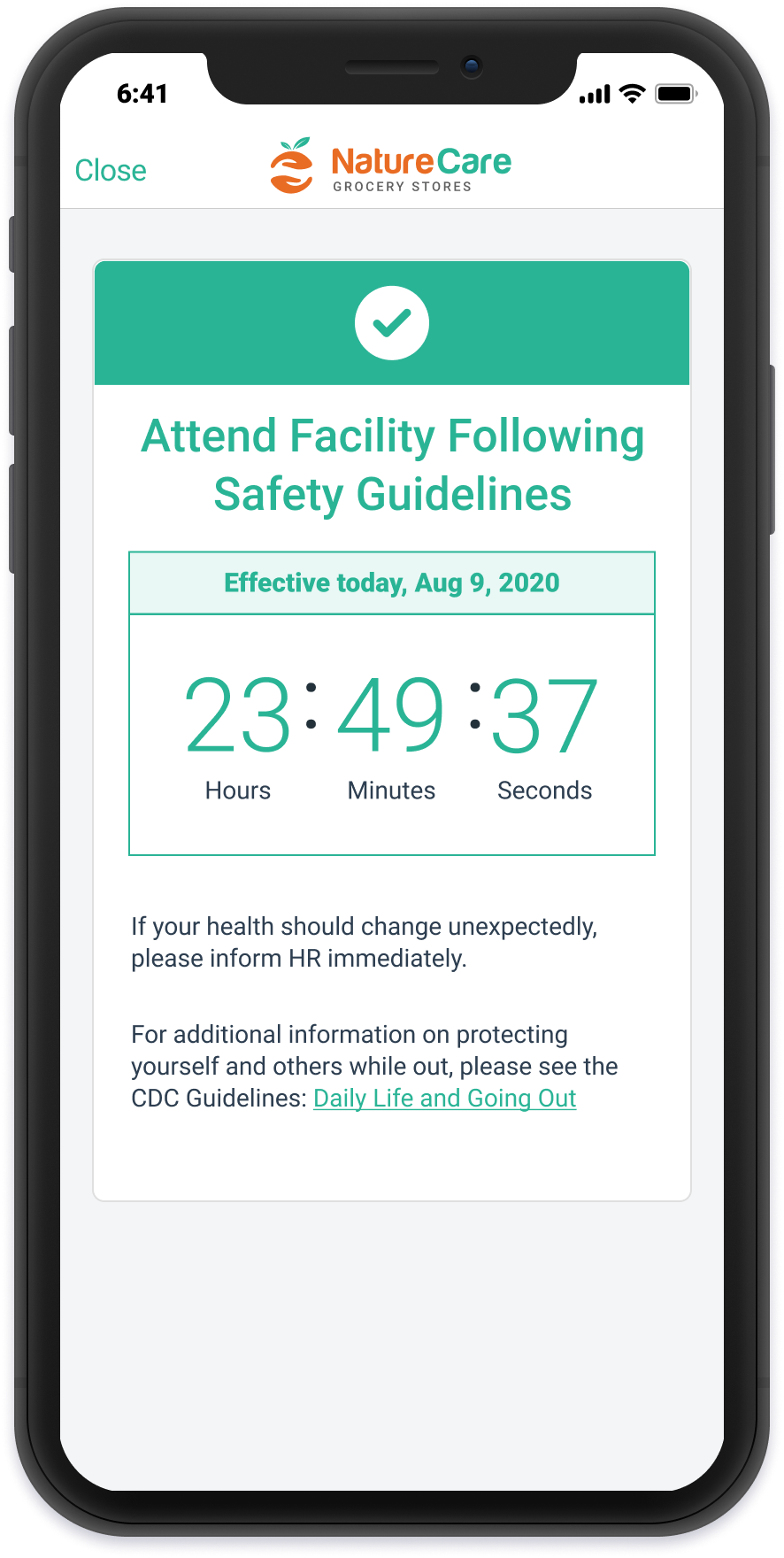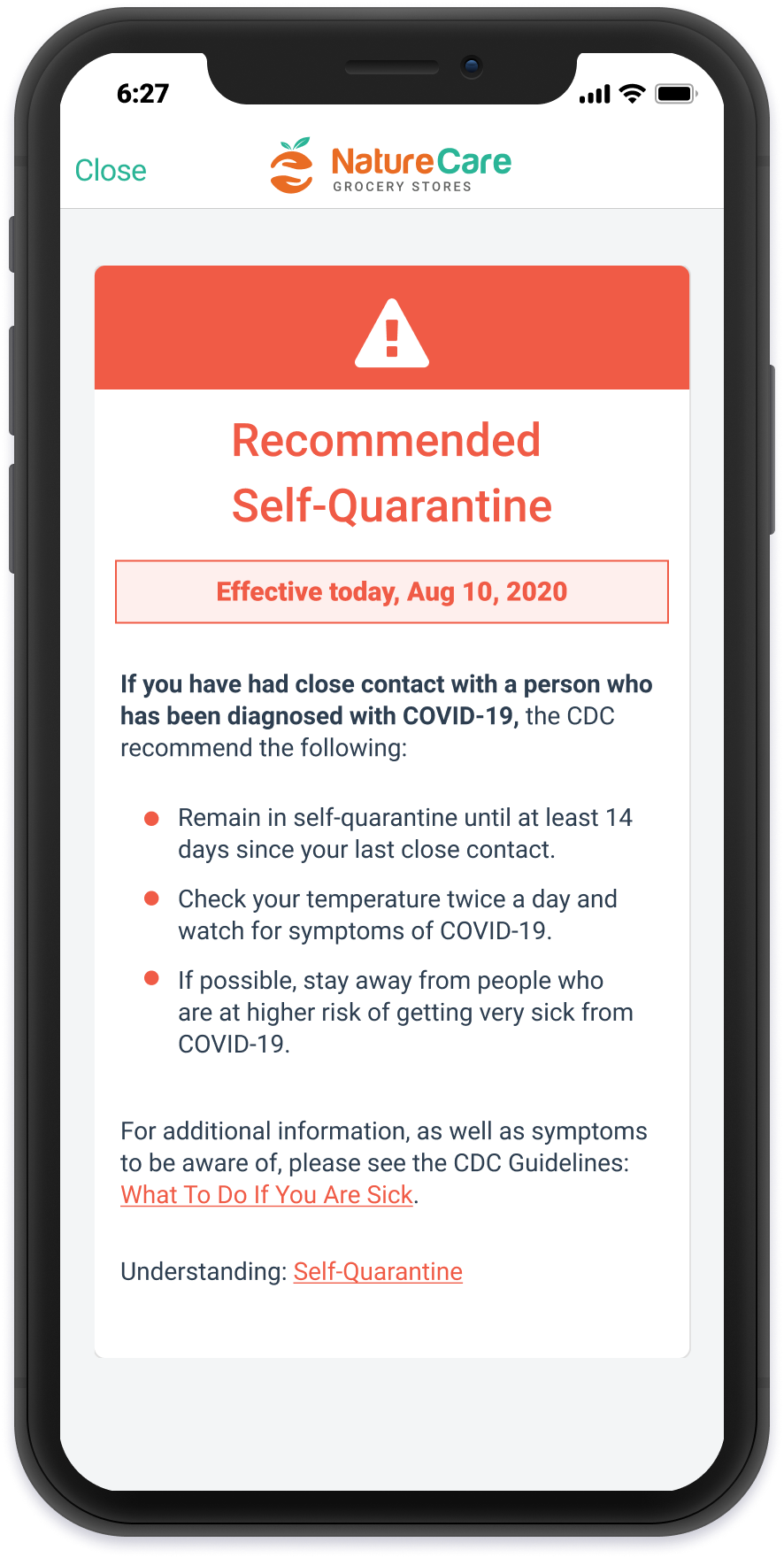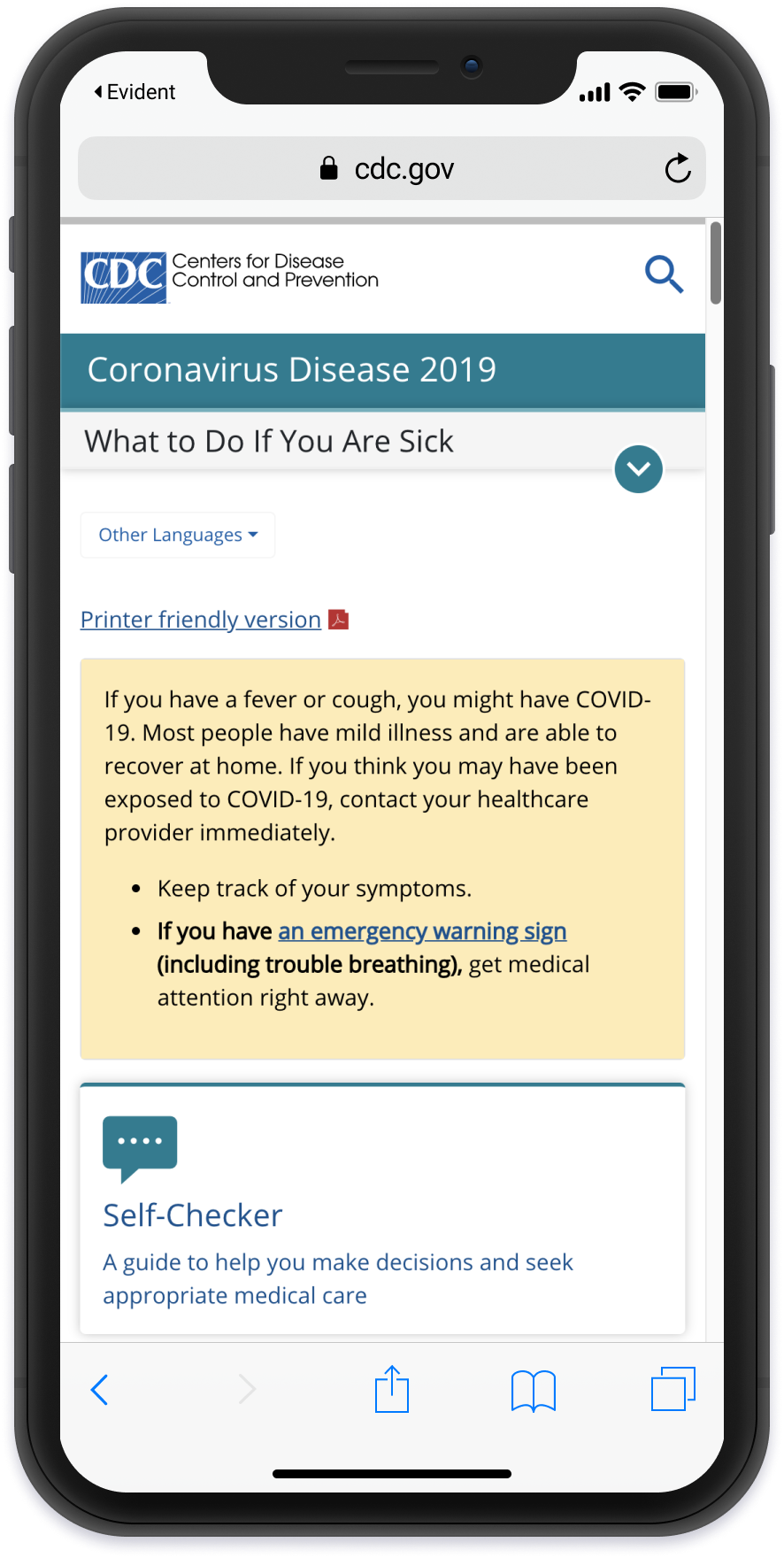 Optimizing the survey for engagement
Rapid iteration of the product allowed for an optimal user experience and better alignment with business goals.
From the first prototype to the final iteration, the average time it takes users to complete the surveys is 50% faster and with 63% fewer screen taps for most users, all while ensuring more thoughtful and deliberate responses.
Before Optimization
The first version of the survey was a single page containing all the questions. It was designed to be simple and non-intrusive, but actually ended up feeling a little overwhelming and unengaging.
Early user research suggested that some users were simply going down the list and hitting "no" to each question, which was very counterproductive the the goal of ensuring thoughtful and reliable responses, and needed to be addressed.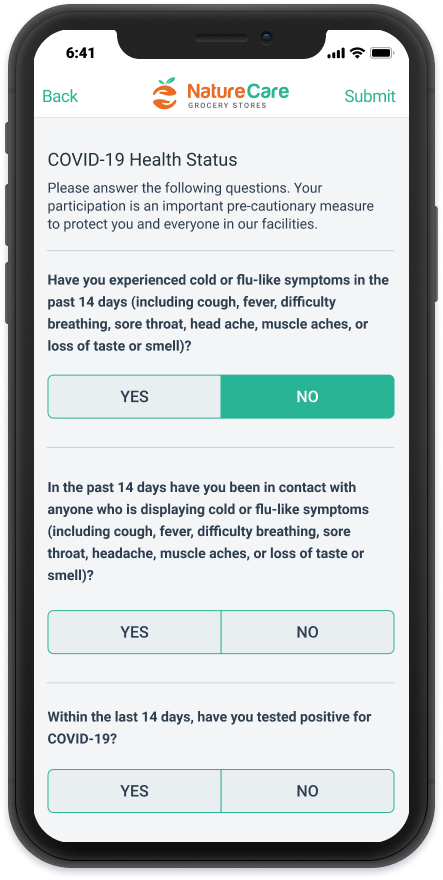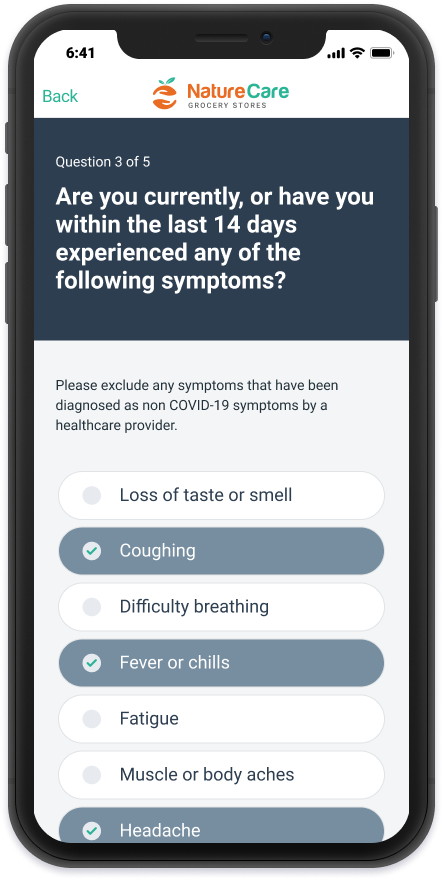 After Optimization
The questions of the survey were enumerated into single questions per page, and the responses to the questions varied, so that there was no longer a consistent "no", "no", "no" pattern to the responses. This forced users to be more deliberate with their answers.
The language of the questions themselves is extremely specific and nuanced. This new format allowed the questions to be highlighted with high contrast and bold typography to draw focus on the question and the nuances of the wording.